GloRilla real name Gloria Woods is a rising rapper from Memphis, Tennessee, known for her bold and confident style. With hits like "F.N.F. (Let's Go)" and "Tomorrow 2" featuring Cardi B, she has quickly gained a loyal following and critical acclaim.
GloRilla has described her music as "crunk and dominant," and draws inspiration from a range of influences, including Chief Keef. In addition to her success in music, she has also demonstrated a commitment to giving back to her community, donating $25,000 to her former high school in Memphis. While she keeps her personal life private, her talent and work ethic suggest that she is poised for continued success in the industry.
Glorilla Is a Rapper
GloRilla is a rising star in the world of American hip-hop. She first caught the attention of music fans in 2022 with her song "F.N.F. (Let's Go)," a collaboration with fellow rapper Hitkidd. The track was well-received by both fans and critics alike, earning a nomination for Best Rap Performance at the 65th Annual Grammy Awards.
Also Read: Coi Leray Age, Net worth, Mom, Real name, Partner, is she a transgender?
Following the success of "F.N.F.," GloRilla continued to make waves in the music industry with her single "Tomorrow 2," which features a guest appearance from the chart-topping rapper Cardi B. The song proved to be another hit for GloRilla, reaching the top ten on the Billboard Hot 100 and further solidifying her status as a rising star in the hip-hop world. With a unique sound and a growing fan base.
At Age of Sixteen, She Began Rapping
GloRilla is a young rapper hailing from the Frayser neighborhood of Memphis, Tennessee, born on July 28, 1999. She was homeschooled until the fifth grade and began her journey as a rapper when she turned 16. GloRilla's passion for music drove her to pursue her dream while also attending Martin Luther King College Prep, where she graduated from.
Her dedication and hard work paid off in 2022 when she rose to fame with her hit song "F.N.F. (Let's Go)," a collaboration with rapper Hitkidd, which earned a nomination for Best Rap Performance at the 65th Annual Grammy Awards.
She Is The Eighth Child Of Her Family
GloRilla's childhood was heavily influenced by music. As a part of her church's choir, she developed a passion for singing and initially aspired to become a singer. However, after losing her voice, she made the decision to switch to rap, a move that ultimately led to her breakthrough in the music industry.
As she began to establish herself as a rapper, GloRilla considered the stage name "Big Glo," but ultimately chose the name given to her by her cousin. Born as the eighth child out of ten on her mother's side, GloRilla's upbringing was likely shaped by the close-knit family environment that comes with being a part of a large family.
Her First Stage Name Was 'Big Glo'
GloRilla initially considered using the stage name "Big Glo," but eventually decided to go with the name suggested by her cousin, which ultimately became her stage name. As a rising star in the hip-hop industry hailing from Memphis, Tennessee, GloRilla has already made a significant impact with her music, and her unique style and sound continue to captivate audiences.
On the show name 'on the radar radio' she said that "First, I was just going by Big Glo.
Popular: Who was Gangsta Boo? Real Name, Net worth, Age, Brother, Family, Married Life, dies at 43
"Before I started putting my music out, I was just going to go by Big Glo for my rap name.
"My cousin said, 'Nah…you need to think of something else.' Then, he said GloRilla."
"I laughed when he first said it, it's literally just my name with two L's."
GloRilla Have Collaborated With a Lot Of Different Artists
GloRilla has been keeping busy since her rise to fame in 2022. In June of that year, she collaborated with Duke Deuce on the song "Just Say That," which was well-received by fans. A month later, in July 2022, she signed with Collective Music Group, a record label owned by fellow Memphis rapper Yo Gotti. Her signing to the label was followed by her appearance on the compilation album "Gangsta Art." In September 2022, GloRilla released "Tomorrow 2," a single featuring Cardi B, which quickly gained popularity and further solidified her position as a rising star in the hip-hop world.
In November 2022, she dropped her EP "Anyways, Life's Great…" featuring tracks that showcase her unique style and sound. In December 2022, GloRilla collaborated with rapper Gangsta Boo on Latto's single "FTCU." She started off the New Year strong by collaborating with her labelmate Moneybagg Yo on the single "On Wat U On," which was released in January 2023. It's clear that GloRilla has no intention of slowing down and will continue to captivate fans with her music for years to come.
Chief Keef Was A Role Model For GloRilla
GloRilla has cited Chief Keef as one of her biggest musical influences, a rapper is known for his unique sound and uncompromising approach to music. It's clear that GloRilla draws inspiration from a wide range of artists and styles, and she has used these influences to create a style that is uniquely her own.
GloRilla Call Her Music "Domnant And Crude"
GloRilla has described her music as "crunk and dominant," a style that reflects her bold and assertive personality. Her music often features aggressive beats, hard-hitting lyrics, and a sense of confidence and power that sets her apart from other artists.
GloRilla Donated A Sum Of $25,000 To Her High School
In September 2022, GloRilla returned to her high school, Martin Luther King College Prep in Memphis, Tennessee, to donate $25,000. This act of generosity highlights her commitment to giving back to her community and supporting education.
More: Rapper Glorilla Biography, Age, Family, Net Worth
GloRilla is a singer. Her source of income is performance and social media like youtube, Instagram, etc. As per our analysis, the rousing rapper GloRilla must have an estimated net worth of USD 200,000.
She has recently signed with Yo Gotti to his CMG records from where she bagged 0.5 million dollars. She has amassed fortunes through her successful career as a singer, songwriter, and social media influencer.
GloRilla Keeps Her Personal Relationship Private
It is not uncommon for public figures to keep their personal lives private, and it appears that GloRilla is no exception.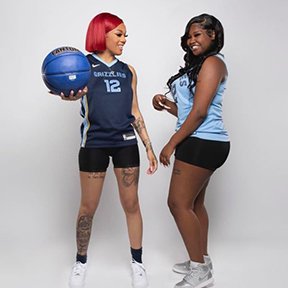 While there may be speculation or rumors about her past or current relationships, she has not publicly confirmed or denied any romantic involvements. It's important to respect her privacy and focus on her music and accomplishments as an artist.
GloRilla Social media
Gloria Woods also known as GloRilla is also a famous social media star from Frayser, Memphis. She is available on Instagram in name of " glorillapimp " She has 3.2M followers (As of 2023 April 6)and she has posted many pictures of her performing, on a talk show, cars, money, and some rappers, and music artists.
GloRilla has a Twitter account named " GloRilla " She has around 1M (As of 2023 April 6) Followers. She also has a YouTube channel which she started on Dec 18, 2014, and now she has more than 647K+ subscribers.
Let's Explore GloRilla's Height, Weight, Gender
Height
Feet: 5 Feet 2 Inches
Centimeter: 157.48 cm
Meter: 1.57 m
Hair Color
Black
Eye color
Black
Weight
Kilogram: 50 kg
Pound: 110 lbs
Body type
Fit
Sexual orientation
Straight
Quick Information
| | |
| --- | --- |
| Nationality | American |
| Ethnicity | Mixed (African Descent) |
| Zodiac sign | Leo |
| Relationship Status | Single |