Paige DeSorbo is a freelance fashion writer, entrepreneur, and cast member of Bravo's Summer House. She currently works for Betches Media, sharing celebrity news and looking for less style. Now, the American actress is already making headlines with her new TV series Winter House right from the first episode.
More than her acting headlines are the news reports confirming the actress in a romantic relationship with the fellow Winter House co-star Craig Conover. With such exposure and public attention, it is obvious that her fans and the viewers are interested in knowing more about Desorbo in detail.
"Everything really does happen for a reason"; Paige DeSorbo Confirms She's Dating Craig Conover
It's been confirmed! Paige DeSorbo confirmed their relationship in a recent interview with Us Weekly, after widespread speculation that Craig Conover and Paige DeSorbo were dating.
Paige opened up about how she and Craig had started off as just friends while they vacationed together in Stowe, Vermont in the upcoming season of Winter House. "I met Craig, actually, three years ago and he was single. I had a boyfriend and I absolutely respected that I was in a relationship," Paige recalled. "And then when we got to Vermont, I didn't know he had a girlfriend.
So, I was a little bummed when I first got there. But, of course, he was absolutely respectful to his girlfriend. And I'm so happy now looking back that he had a girlfriend because we built just a very platonic friendship, which is, like, the base of our relationship now. Everything really does happen for a reason."
The founder of Sewing Down South spoke to fans about his relationship
Paige had previously dated Perry Rahbar, whom Summer House viewers followed, but the two split up in 2020. Craig was dating Natalie Hegnauer when he joined the Winter House this season, as Paige revealed to Us Weekly. In Season 7 of Southern Charm, the founder of Sewing Down South spoke to fans about his relationship with Natalie.
"And you'll just have to see how it kind of plays out toward the end of our vacation," Paige told Us Weekly. "It sounds so cliché, but Craig just gets me. There's a lot of things I don't have to explain to him because we look at things very similarly. It just fits, like, it just is very natural and it's a lot of fun."
Read About: Who is Jamie Skaar of "The Bachelorette"? Know the Age, Net worth, Nationality, the profession of Jamie
Paige told Us Weekly that because she lives in New York City and Craig lives in Charleston, the Winter House couple has decided to keep their relationship long distance for the time being. "We enjoy long-distance travel. "We're two extremely independent people who have a lot going on during the week," she explained.
"It's fun when we get Monday through Friday to finish all of our tasks and then I jump on a plane Friday morning." When we're together, I feel like we're more present with each other. We don't use our phones and plan and participate in interesting activities."
You can definitely see Paige and Craig's chemistry in the above Bravo Insider exclusive in which the pair gives you an adorable tour of the Winter House.
Paige Desorbo Age, Date of Birth, Birthday, Family, what about her father, mother, where is she from? Early Life.
DeSorbo is 28 years old as of 2021. She was born on November 6, 1992, in New York, United States. She celebrates her birthday on the 6th of November every year.
The Winter House cast Paige Desorbo's hometown is Loudonville which is located in Albany County of New York in the United States. Desrobo was actually born and raised in her hometown Loudonville and has always been in the same area since her birth.
Even to this date, Desorbo does all of the social media modeling as well as acting works from New York City. Since she was born and raised in NY, we can also expect her parents to be well settled in the area to be able to raise their daughter in such an expensive city.
DeSorbo has managed to keep her personal life away from the limelight hence she has not disclosed any information about her parents. It is also not known if DeSorbo has any siblings.
Paige Desorbo Net worth, how much did she earn?
DeSorbo has an estimated net worth of $1 million U.S dollars which she has earned through her successful career as a Tv personality and fierce fashionista.
Paige Desorbo's Boyfriend, What about Her Relationship?
Paige Desorbo is reportedly in a romantic relationship with her boyfriend and co-star Craig Conover. While talking to People about their relationship, Desorbo revealed that she and her now-boyfriend Conover were attracted to each other since their first meeting around three years ago.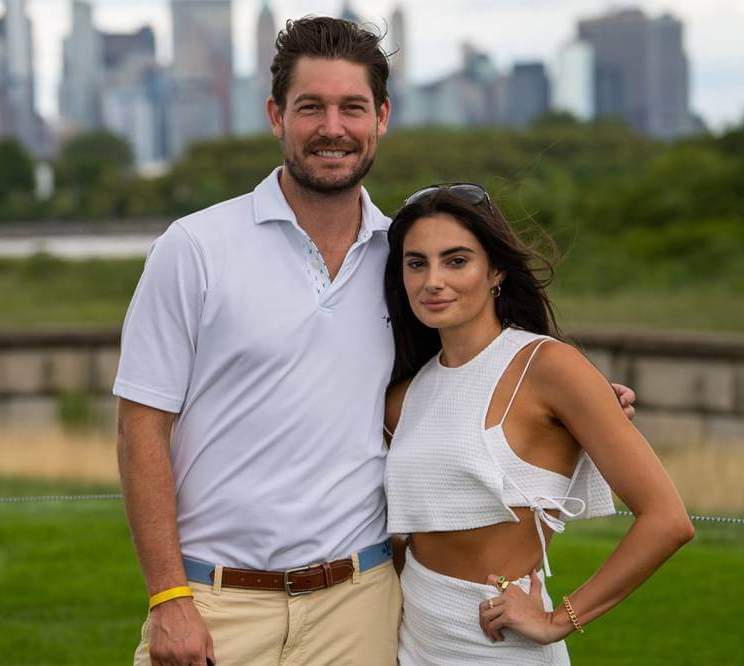 However, they were never single and ready for a new relationship in the meantime, even to this recent encounter. Paige further mentioned that despite not being involved romantically, they were constantly seeing each other
.Eventually, all those secret stalkings and charms towards each other ended in a better way after both found their way into Bravo's new show Winter House. In the show, Desorbo and Conover got to know each other better and gradually develop the love feeling in a natural way.
Now the couple is officially together for some time now and they genuinely look happy together.
Paige Desorbo Career
She worked as an assistant for ABC and currently writes about fashion for Betches Media. Shortly after beginning her career as a journalist and freelance TV host, Paige began appearing on Summer House. After being a part of the show for three years, the NYC native has grown her Instagram following.
DeSorbo is one of the cast members of Summer House season 5 which premiered on February 4, 2021, at 9 p.m. ET on Bravo. She is one of the youngest housemates and is ready for another fun summer in the Hamptons.
The show follows a bunch of privileged men and women between their late twenties to early thirties who spend their weekends and summer having some fun.
In this season, Ciara Miller will be the newest member to join the show. In the season, the drama intensifies as the Summer House crew mixes business with pleasure for the first time all together 24/7.
Popular: Who is Tishara Pugh? Age, Wiki, Killed in an accident, Family, Death – Biography
"Quaranteaming" in the Hamptons, this friend group must tackle busy work schedules, tumultuous relationships, and epic parties under one roof.
Where did she attend her High school and University? What was her major?
She is a graduate of The College of Saint Rose where she graduated with a bachelor's degree in broadcast journalism class of 2015.
Paige Desorbo Social Media Reach
She is available on Instagram with the username "@paige_desorbo" with 539k followers and also on Twitter with the username "@Paige DeSorbo" with 23.2k followers.
You may also like: Who is Arminda Gassaway? Age, Wiki, Biography, Husband Death, Family
She is also active on Facebook with the username "@Paige DeSorbo."
Paige Desorbo's Body Appearance Height, Weight
Height
In Feet: 5 Feet 6 Inches
Meter: 168 m
Centimeter: 1.68 cm
Weight
N / A
Hair
Black
Eye Color
Black
Body Type
Fit
Sexual Orientation
Straight
Interesting facts about Paige Desorbo's which you should know
| | |
| --- | --- |
| Nationality | American |
| Religion | N / A |
| Age | 28 years |
| Birthdate | November 6, 1992 |
| Birthplace | New York, United States |
Social Media