In the Republican Party, Karoline Leavitt is becoming more and more well-known. The lawmaker eagerly anticipates the day she would be able to enter the Congress and wander its corridors.
Rep. Chris Pappas of the 1st District and Karoline Leavitt engage in a heated argument.
Less than a week before the election, the contenders in New Hampshire's 1st Congressional District engaged in a tense discussion.
Chris Pappas, a Democratic incumbent U.S. Representative, is running for re-election to Congress, but Karoline Leavitt, a Republican, will be a formidable opponent.
In the Granite State Debate, which was organized by WMUR and the New Hampshire Institute of Politics, the two disagreed on a number of issues. Former Trump administration employee Leavitt attempted to link Pappas to House Speaker Nancy Pelosi and President Joe Biden, but Pappas presented himself as able to work across the aisle to find answers and called Leavitt's ideas "reckless."
The two candidates repeatedly criticized each other's positions on abortion, immigration, and government spending during various points in the discussion.
The first question of the discussion focused on Social Security, a subject on which the two candidates disagree. Leavitt stated that she wants to safeguard Social Security for both those contributing to the system now and those who are currently receiving benefits.
"However, I want to save Social Security for future generations of Americans, elementary-school-age Americans, my nephews, who are 8 and 2 years old," Leavitt said. "The truth is, this program is not going to exist for them, so I want to look for sustainable retirement solutions, and all options are on the table."
Leavitt gave no specifics, but Pappas said that her proposals to privatize Social Security are risky.
Can't Afford A Plan
"Now, Karoline Leavitt has a dangerous plan to privatize Social Security, to gamble it on the stock market," Pappas said. "New Hampshire can't afford a plan like that. She's also supporting raising the retirement age."
A bipartisan group should consider methods to maintain support for Social Security, according to Pappas.
The two candidates provided remarkably similar answers when asked about measures pertaining to the southern border.
"We should be investing more in resources to support our law enforcement along the southern border," Pappas said. "I've done that — hundreds of millions of dollars for Customs and Border Patrol, as well as technology at border checkpoints."
Popular: Israel's First female Paratrooper, Yocheved Kashi, dies at 93
Adding more resources to the southern border, according to Leavitt, is part of the solution.
"We need to invest in border security," she said. "We need to invest in our United States Border Patrol, who are protecting us and who have been put through hell over the past two years to protect the lives of the people of this state."
The distinction, according to Leavitt, is that she thinks the current administration and congressional leaders haven't gone far enough.
How old is Karoline Leavitt?
Karoline Leavitt will turn 25 in the year 2022. She was born in 1997 in the American town of Hampton, New Hampshire. She is an American citizen and a member of the white ethnicity.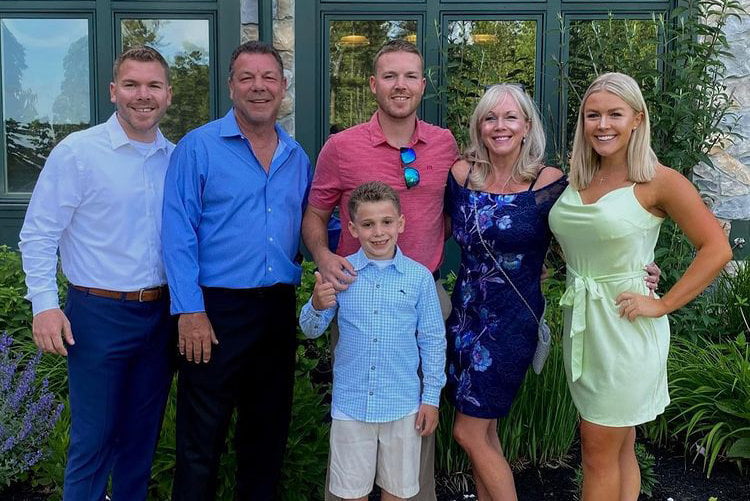 How much net worth does Karoline Leavitt have?
Karoline Leavitt's estimated net worth as of 2022 is somewhere between $1 million and $5 million. Before getting involved in politics, the candidate was a news assistant for Fox News Media.
Also Read: Punter Hall of Fame, Ray Guy, dies at 73
She worked at the Executive Office of the President under Donald Trump for three months during the summer of 2018. The politician began writing for Donald Trump's presidential campaign in June 2019.
What is Karoline Leavitt's profession?
Karoline Leavitt, a rising Republican star, longs for the time when she will be able to saunter through the halls of Congress. She served as both a congresswoman and the chair of the House Republican Conference while working on Capitol Hill as the director of communications. The youngest of the three Republicans running for the First Congressional District seat, the 25-year-old candidate has prior experience working for the Trump Administration.
The Atkinson-born, 25-year-old inhabitant of Hampton worked as Kathleen Rice's deputy press secretary and head of communications prior to her election campaign. She feels fortunate to have worked for President Trump and knows that many people in her community agree with her.
She values New Hampshire and the United States of America, which is why she considers herself to be the "homegrown candidate." The candidate, who believes she can unseat Rep. Chris Pappas, aims to involve young people in New Hampshire while continuing to advance conservative principles. The political candidate grew up in a low-income working-class family in Rockingham County, and during her summer vacations as a little girl, she volunteered at our family's ice cream shop in Atkinson, North Carolina.
Because of her upbringing, Leavitt developed a strong sense of personal accountability and a relentless work ethic at a young age. She decided to run for governor in large part because she could no longer remain silent regarding conservative principles.
Karoline Leavitt's Boyfriend, Is she dating anyone?
Cody Demers and Karoline Leavitt have a strong commitment to one another. Cody graduated from Merrimack College with a degree in public health and computer science. Karoline hasn't revealed the identity of her partner or posted a picture of them on any of their social media accounts, which may be due to her current rigorous schedule with her congressional campaign.
Is she available on social media?
Karoline Leavitt has a social handle on each social App such as Facebook, Instagram, and Twitter.
FAQs about Karoline Leavitt.
How old is Karoline Leavitt?
Karoline Leavitt is 25 years old in the year 2022.
Is Karoline Leavitt dating anyone?
Karoline Leavitt is in a committed relationship with her boyfriend Cody Demers.
How much is Karoline Leavitt'z net worth?
Karoline Leavitt's estimated net worth as of 2022 is somewhere between $1 million and $5 million.
Is Karoline Leavitt active on social media?
Karoline Leavitt is active on social Apps such as Facebook, Instagram, and Twitter.
Does Karoline Leavitt have any children?
Karoline isn't married badly and has no children.