Charlie Berens is a journalist, comedian, and the person who came up with "Manitowoc Minute". He has been on TV networks like FOX, CBS, and MTV News, as well as websites like Funny or Die and TBS Digital. He likes to make jokes about things he notices in the Midwest. In this article, we will have a closer look at his age, family, education, career, and relationship.
Charlie Berens Childhood and Early Life
Charlie Berens is 35 years old. He was born on April 27, 1987, in Oconomowoc, Wisconsin, United States. Berens was raised in the Wisconsin communities of Elm Grove and New Berlin. Charlie Berens' father is an anesthesiologist at a Children's Hospital. He also has a large family, with a total of eleven siblings.
He attended Marquette University High School and the University of Wisconsin-Madison to study broadcast media.
Charlie Berens Career start from MTV News program
At the beginning of his career, Berens worked for the MTV News program Choose or Lose. While covering protests at the 2008 Republican National Convention, he was detained as he reported Wisconsin state politics. In 2012, Tribune Media hired Berens to serve as the presenter of the humorous news program Nightcap. For his work as a KDAF-TV correspondent, Berens received his first Regional Emmy.
Manitowoc Minute is a weekly comedy video series that was developed by Berens in 2017. Manitowoc, in Wisconsin, is the city to which the moniker alludes. He sold out venues all over Wisconsin with his "Oh My Gosh!" Tour, which was motivated by the television show. Manitowoc Minute-inspired beer Keep 'Er Movin was released by Berens in collaboration with Madison producer Ale Asylum.
The Craigslist Kicker, Craigslist Missed Connections, Kwik Trip, and Fleet Farm jokes, as well as catchphrases like "Keep'er Movin," "UFF DA," "Geez Louise," "Tell your folks I says hi," and "Watch out for deer," are all featured in The Manitowoc Minute. In addition to his well-known "Go Packers and Fuck da Bears," he has always concluded the program with a salute to the WI troops.
Card Sale, a card-based party game with a yard sale theme, was the subject of a Kickstarter financing effort that was started on September 1, 2022, by Berens and Dane Schaefer. The campaign raised three times its initial financial target of US$11,700 in under 48 hours and was fully financed. The game's official website has access to Card Sale, which was released in January 2023.
What is The Manitowoc Minute?
Berens created a humorous web-based news program, The Manitowoc Minute where he amplifies his Wisconsin dialect to a degree that's thicker than mascarpone cheese. He conceived the "Manitowoc Minute" persona during his stand-up comedy performances in 2017, drawing inspiration from his experience in the field of local news.
Also Read: Everything you need to know about Mana Band – Including Member's Ages, Names, & Net worth
As the character gained popularity at comedy clubs, Berens decided to produce a video featuring the "Manitowoc Minute," and the rest is now part of the show's history.
Charlie Berens hosts podcasts
According to the podcast's description, Berens hosts The Cripescast Podcast, where he speaks with a variety of people, including comedians, singers, artists, and writers, about their lives and links to the Midwest.
LeRoy Butler, a former Packers player and member of the Pro Football Hall of Fame who created the Lambeau Leap, has been a guest. Other notable guests have included Mazomanie native Skylar Grey, a singer, songwriter, musician, and producer who has been nominated for five Grammy Awards, comedian, actor, and author Jeff Foxworthy, and DJ Shawna, the official DJ, and producer for the Bucks.
In addition, Myles Montplaisir, the "You Betcha Guy," and Berens co-host the Fleet Farm-sponsored "Bellied Up Podcast." While "bellied up" to various bars, they offer Midwest-specific advice and answer listener calls.
What is Charlie Berens' relationship with Alex Wehrley?
People are mostly confused regarding the relationship between Charle Berens and Alex Wehrley.
In 2015, Berens married former Miss Wisconsin USA Alex Wehrley, a television personality and actress. They were happily married for about 5 years. Later in 2020, they got divorced.
More: Meet "The Americans" star Annet Mahendru – Look at her Personal life Including Parents
It's surprising that both of them have now happily moved on with their life. Wehrley and her husband Joseph Wnuk got engaged in May 2022. In October 2022, they got hitched later that year. Alex announced her wedding day on one of her Instagram posts.
"We made it OUR day with a few twists on traditions! 🥂 Thanks to everyone who made our wedding so special…."

Source: Instagram
Who is Alex Wehrley?
Alexandra Ann Wehrley who is known commonly as Alex Wehrley was born on July 29, 1987. She is an American YouTuber, TV host, and former Miss Wisconsin USA.
The Miss USA pageant in 2015 was one of Wehrley's most well-known co-hosting events.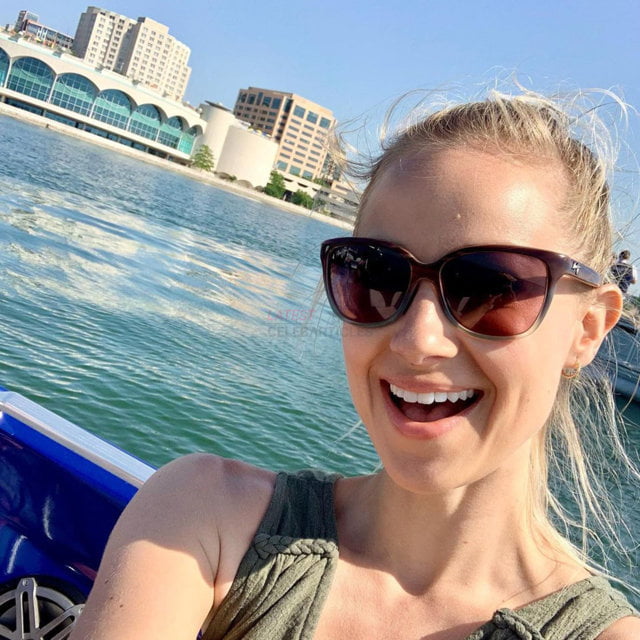 In addition to the chat show Oklahoma LIVE, Wehrley has presented television programs for a variety of platforms, such as Tribune Media's Eye Opener. In addition to co-hosting the CMA Awards red carpet and VH1's Big Morning Buzz with Nick Lachey after moving to Hollywood, she started working as a freelancer for E! News Now.
Is Charlie Berens dating anyone after his divorce?
Charlie Berens is possibly single after his divorce from his former wife, Alex Wehrley. He has not given any hints about his personal life or dating life at the moment.
You may also be interested in: Everything you need to know about Mana Band – Including Member's Ages, Names, & Net worth
Charlie Berens has a Impressive Net worth you may unaware of it
The comedian's net worth is around $1 million in 2023. Actors typically earn an average salary of $62k, according to reports. In addition to his work as a comedian, he also sells merchandise like T-shirts, masks, CDs, mugs, and caps.
Charlie is very well-liked on social media
Charlie Berens is one of the most loved people on the Internet. He is on Instagram as @charliebeerens with 815k+ followers. He is also available on Twitter where his Twitter handle is CharlieBerens.