Raymond Fearon also known as Ray Fearon, a talented English actor from his role as the affable garage mechanic Nathan Harding on ITV's iconic soap opera Coronation Street to his captivating portrayal of the wise centaur Firenze in the Wizarding World film series Harry Potter and Fantastic Beasts.
Beyond his on-screen achievements, Fearon has also made notable contributions to the stage. He has showcased his talent in numerous theater productions, captivating audiences with his powerful performances and ability to command the stage. Fearon has also been involved in various philanthropic endeavors. He actively supports charitable organizations and uses his platform to raise awareness for important causes, demonstrating his commitment to making a positive impact on society.
Ray Fearon Family Life with Parents and Siblings
Ray Fearon was one of ten children (seven brothers & sisters), born to Jamaican parents on August 5, 1973 (age 49 years), in a bustling household in northwest London. His father worked as a telephone cable layer for the Post Office. Growing up, Fearon's siblings were an integral part of his life.
Ray Fearon Brother Lawrence Fearon and The Bridge Park Complex
Among Fearon's siblings, Lawrence Fearon stood out for his involvement in the Bridge Park complex. This facility served as a launchpad for individuals such as Ray Fearon himself, who went on to become a distinguished actor with the Royal Shakespeare Company.
Lawrence Fearon's contributions to the complex provided opportunities for aspiring artists, including his brother, to showcase their talents and embark on successful careers.
Sister's Influence on Ray's Life
Although Ray Fearon's sister remains unnamed in the interview. In a conversation about looking after oneself when playing significant roles, Fearon credits his sister for introducing him to Bikram yoga, which he has faithfully practiced for the past 12 years.
Also Read: Actor Michael Chernus Net Worth Parents and Wife
"My sister introduced me so I would loosen up for Strictly. I love it,"

he said.
The introduction was initially meant to help him loosen up for his participation in the popular television show, "Strictly Come Dancing." Fearon's love for this form of yoga, which focuses on physical and mental well-being, has since become an integral part of his self-care routine.
After graduation, he worked on many stages
Raymond Fearon went on a remarkable journey in the world of theater after his studies at Rose Bruford College. Fearon's early theater career took him to renowned venues such as Liverpool's Everyman Theatre, where he showcased his talent and honed his craft. He then moved on to the Manchester Contact Theatre and the prestigious Manchester Royal Exchange, where he delivered captivating performances that left a lasting impact on audiences.
Continuing his theatrical exploration, Fearon graced the stages of the Oxford Playhouse, the Barn Theatre in Kent, and the highly acclaimed Almeida Theatre. Each production allowed Fearon to immerse himself in diverse roles, further expanding his range and versatility as an actor.
Fearon's theatrical journey also took him to notable venues such as The Crucible in Sheffield, The Donmar Warehouse, and the esteemed Royal Shakespeare Theatre in Stratford. These iconic theaters provided Fearon with opportunities to tackle renowned works and collaborate with esteemed directors and fellow actors, further solidifying his reputation as a formidable stage performer.
Not content to limit his talents to the United Kingdom, Fearon took his craft across borders, touring the United States, Europe, and the Far East.
Ray Fearon made history by being the first black actor to play Othello on the main stage of RSC
At the age of just 24, Fearon made history by becoming the first black actor in over 40 years to play the titular role of Othello on the main stages of the Royal Shakespeare Company (RSC). His portrayal of Shakespeare's tragic hero in the Liverpool production garnered critical acclaim and marked a significant milestone in the representation of black actors in classical theater. Fearon's powerful performance, opposite Kearney's Desdemona, captivated audiences and highlighted his ability to command the stage with depth and emotional intensity.
You may also like: Actor Brendan Penny Relationships and Married life with his wife Lisa Gerrard
As Fearon's career continued to flourish, he expanded his theatrical repertoire with notable performances in London. He took on the roles of Hugo/Frederick in Ring Round the Moon at the Lilian Baylis Theatre, displaying his versatility in portraying multiple characters. Fearon also embarked on a one-man show, captivating audiences as the enigmatic title character in The Invisible Man at the Bridewell Theatre. His ability to hold the stage and command attention in a solo performance showcased his immense talent and captivated audiences.
At just 17 years old, he joined Royal Courth Youth Theatre
Ray Fearon embarked on his theatrical journey at a young age, joining the esteemed Royal Court Youth Theatre when he was just 17 years old.
This early involvement in such a prestigious institution set the stage for his future accomplishments in the world of acting.
Ray Fearon and his ex-wife, Jane Gurnett started dating in the 1990s
Ray Fearon, the esteemed actor, has had a remarkable journey both in his personal life and on the stage. In the 1990s, Fearon began dating Jane Gurnett, and their relationship garnered public attention. However, in 2004, the couple made their breakup public, marking the end of their romantic connection.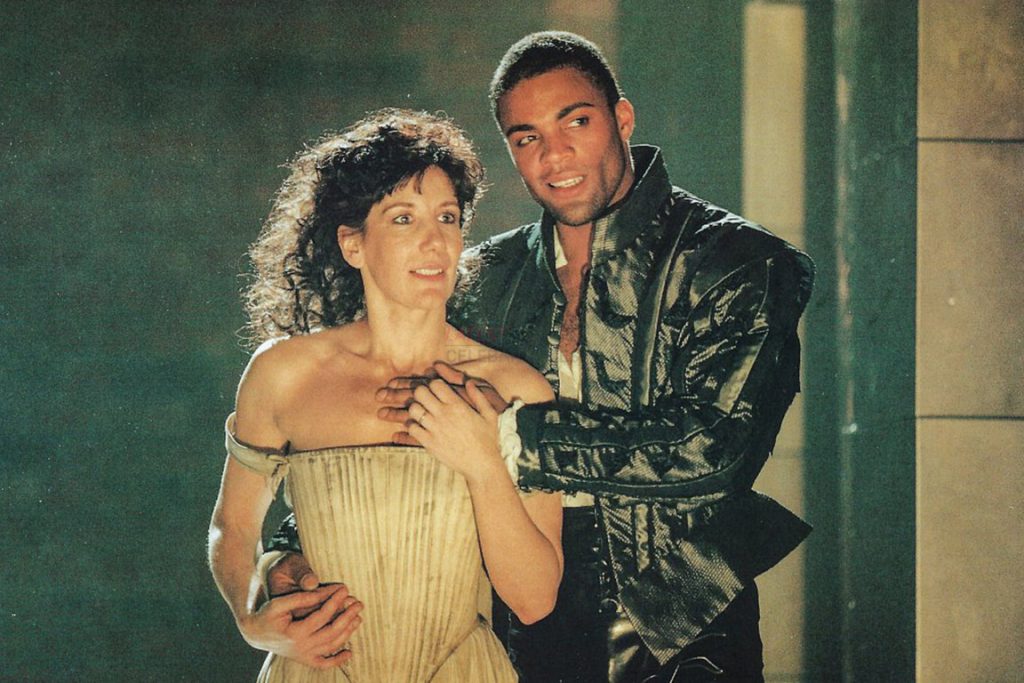 Following their separation, Fearon shared in an interview that he encountered difficulties in finding love for himself. Since then, he has focused on his professional endeavors, with occasional reports hinting at his personal life but indicating that he is currently not dating anyone.
Jane Gurnett is also an actress
Jane Gurnett, the renowned American actress, has left an indelible mark on the British television landscape through her notable roles in popular shows such as Crossroads, Dangerfield, and Casualty. With her versatile performances and captivating portrayals, Gurnett has garnered a dedicated following and has become a familiar face in the industry.
Beyond her acting career, Gurnett has embarked on a journey of personal and professional growth, showcasing her passion for education and advocacy. After relocating, she found herself teaching drama at Warwick School, where she made a profound impact on young minds.
In early 2018, Gurnett took on an additional part-time role, utilizing her expertise to establish a company aimed at assisting parents and teachers in effectively working with autistic children.
Her dedication to supporting the development and well-being of young individuals with autism is a testament to her compassionate nature and commitment to making a positive difference in the world. At 65 years old, Gurnett's career has spanned numerous credits, showcasing her talent and versatility across various genres and platforms.
They have a daughter together
Rosa May, the daughter of Jane and Ray, was born in 1998 and has now reached the age of 24. Although she has reached maturity, her parents have made the conscious decision to keep her personal information private, away from the public eye.
Popular: Meet Nepali British Actress Amita Suman's Parents and her Boyfriend
Jane and Ray, as devoted parents, have strived to provide Rosa May with a nurturing and loving environment, prioritizing her well-being and protecting her privacy.
He has amassed a good sum of net worth
Ray Fearon has amassed an estimated net worth of $1.6 million through his long and successful career in the entertainment industry. His impressive financial standing is a testament to his talent, hard work, and dedication to his craft.
Fearon's career has spanned both film and television, with notable appearances in popular productions such as Coronation Street, The Foreigner, and Harry Potter and the Philosopher's Stone. These projects have contributed to his financial success and solidified his presence in the industry.