Green Day is an American rock band known for their all-time favorite classics that made them fan favorites in a shoe period of time. American rock group Green Day was formed in 1986. Three people make up the group: Tré Cool (drums, percussion), Mike Dirnt (bass, backing vocals), and Billie Joe Armstrong (lead vocals, guitar). They are renowned for their upbeat live performances and punk rock style.
Green Day's "Dookie" (1994) album, which featured big singles including "Longview," "Basket Case," and "When I Come Around," helped the band become pretty well-known in the middle of the 1990s Green Day gained international recognition thanks to the record, which also assisted in reviving interest in punk rock among the general public. They followed up with popular albums like "Insomniac" (1995) and "Nimrod" (1997).
The album "American Idiot," which Green Day released in 2004, became a huge financial success and garnered them critical acclaim. Songs like "Boulevard of Broken Dreams" and "Wake Me Up When September Ends" and the album's title track became standards for a generation. A Broadway musical based on "American Idiot" went on to achieve great success.
Green Day has kept putting out music and touring relentlessly over the years. They have released several significant albums, such as "21st Century Breakdown" (2009), "Uno! Dos! Tre!" (2012), and "Revolution Radio" (2016). While retaining its distinct punk rock style, its music frequently discusses social and political themes.
How Old Are Green Day Members?
Green Day Members ages are Billie Joe Armstrong, (51), Mike Dirnt, (51), and Tré Cool (50).
Birthdays of Green Day Members
Billie Joe Armstrong (vocalist/guitarist): February 17, 1972
Mike Dirnt (bassist): May 4, 1972
Tré Cool (drummer): December 9, 1972
Meet Green Day Members Till Now
The following are the present members of Green Day:
Billie Joe Armstrong
Mike Dirnt
Tré Cool
Past members:
Raj Punjabi
Sean Hughes
John Kiffmeyer
Jason White
Closer look at Present Band Members Individually
Meet Billie Joe Armstrong, Lead Vocalist, and Guitarist
American musician, singer, and songwriter, Billie Joe Armstrong is the lead singer and guitarist for the punk rock band Green Day. He was born In Oakland, California on February 17, 1972.
In 1986, Mike Dirnt on bass and Tré Cool on drums joined Armstrong to form Green Day. The band achieved widespread success with their third studio album, "Dookie" (1994), which featured smash singles like "Longview," "Basket Case," and "When I Come Around." Green Day became one of the top bands of the 1990s punk rock revival thanks in part to the album's success.
Armstrong is well known for his engaging on-stage persona, unusual singing voice, and creative prowess. His lyrics frequently include social and political allusions, which helps Green Day's music connect with a broad audience.
Early Life and Childhood of Billie
The youngest of Ollie Jackson's six children and Andrew Marsicano Armstrong's six children, Billie Joe Armstrong was raised in California's Rodeoraised. On September 10, 1982, when Armstrong was 10 years old, his father, a jazz musician and Safeway truck driver passed away from esophageal cancer. He dedicated the song "Wake Me Up When September Ends" to his father.
Related: Def Leppard Ages and Names Of Band Members
Armstrong has two older brothers named David and Alan, and three older sisters named Marci, Hollie, and Anna, and three older sisters. At Rod's Hickory Pit in El Cerrito, California, where he and Mike Dirnt played their debut show in 1987, his mother was a waitress.
Billie Joe Armstrong's wife
Adrienne Armstrong (born Nesser) is the wife of Billie Joe Armstrong. They exchanged vows on July 2, 1994. Adrienne has experience managing artists and working as a musician in the music industry. Joseph Marciano Armstrong, a son born in 1995, and Jakob Danger Armstrong, a daughter born in 1998, are the couple's only children.
They've been wed for a long time and have remained close throughout Billie Joe's fruitful career with Green Day.
Billie Joe Armstrong is a Bis*xual
In a 1995 interview with The Advocate, Armstrong declared that he was bis*xual, adding, "I suppose I've always been bis*xual. It's just something that I've always been curious about. I believe that humans are naturally bis*xual, nevertheless, our upbringing and society tend to lead us to believe that we cannot be bis*xual. It is allegedly taboo.
Also Read: Avenged Sevenfold Members Ages, Real Names, Height and Now
While it's actually not awful at all, it has become imprinted in our minds that it is. It's an adorable item. In a Rolling Stone story published in February 2014, he once more acknowledged being bis*xual and how the Green Day album Dookie "touches on bis*xuality a lot."
Mike Dirnt, Bassist and Backing vocalist of Green Day
Green Day's co-founder, bassist, backing vocalist, and occasionally lead vocalist Michael Ryan Pritchard, best known by his stage name Mike Dirnt (born May 4, 1972), is an American rock musician. Along with the Frustrators, he has also performed in a number of other bands.
As he frequently played "air bass/guitar" and created a "Dirnt, Dirnt, Dirnt" noise while pretending to pluck the strings, his elementary school buddies first gave him the nickname "Dirnt" before changing it to his stage name.
Tragic Childhood of Mike and Growing up with Sister Myla
Dirnt was adopted on January 9, 2013, when his biological mother passed away. Only one month before her passing, Dirnt was able to meet her. His mother stayed at home to look after him and his sister Myla when he was a child, his father frequently traveled to get a degree. Pritchard was a star student even though he often missed lessons due to diseases linked to the d*ug use of his biological mother.
You may also like: Nirvana Members Original Ages, Names and Now
His parents got divorced following a fight that resulted in a call to the police. His sister and mother relocated to Rodeo, California, but he remained in El Sobrante, California, with his father. But finally, he moved in with Myla and her because he missed his mother. After the divorce, Dirnt changed from being described as intelligent and fearless to becoming grumpy and distant.
Mike Dirnt's married life
Anastasia Serman and Dirnt were married for the first time in 1996; they later divorced. Estelle Desiree, a child born to Anastasia and Dirnt on December 20, 1996, is their only child. He moved his daughter to reside in Oakland after obtaining full custody of her in the summer of 2008.
In a luxurious home in Puerto Vallarta, Mexico, he tied the knot with fiancée Sarah Garrity in 2004. That year saw the two's divorce. In a secret ceremony held in Brittney's native Ojai, California, on March 14, 2009, he wed Brittney Cade. Brixton Michael, Dirnt's son, was born on October 11th, 2008, and Ryan Ruby Mae, her daughter, was born on November 29th, 2010; both of their births were by Dirnt and Cade.
Meet Drummer of the Band, Tre Cool
Frank Edwin Wright III, better known by his stage name Tre Cool, is an American musician best known for being the drummer for the punk rock group Green Day. He was born in Frankfurt, Germany, on December 9, 1972.
Just before the release of their second studio album, "Kerplunk!" (1992), Cool joined Green Day in 1990. His upbeat drumming style and jovial demeanor rapidly contributed significantly to the band's identity. The music business holds drummer Cool in high respect for his ability to combine tight, accurate drumming with the aggressiveness of punk rock.
Frank father flew a chopper in the Vietnam War
Frank Edwin Wright Jr. and Linda Wright welcomed their son Frank Edwin Wright III into the world in Frankfurt, West Germany. His father and older sister Lori resided with him in Willits, California. He is of German descent, and his father flew a chopper in the Vietnam War. Larry Livermore, the lead singer of the punk band The Lookouts at the time, lived next door to Wright.
Popular: Pearl Jam Band Members Ages and Net Worth
Wright was hired by Livermore as The Lookouts' drummer when he was 12 years old, and Tre adopted the moniker "Tré Cool," which combines the words "très" and "cool" to mean "very cool." Wright already had the nickname Trey, a play on the generational names of his family, before he added the word "Cool."
Tre Cool's married life
Tre Cool has been married three times. His first wife was Lisa Lyons, and they got married in 1995 but divorced the following year. They have a daughter named Ramona Isabel Wright.
Later, he married Claudia Wright. They were together for a year before getting married in 2001 and divorced two years later. They have a son named Frankie.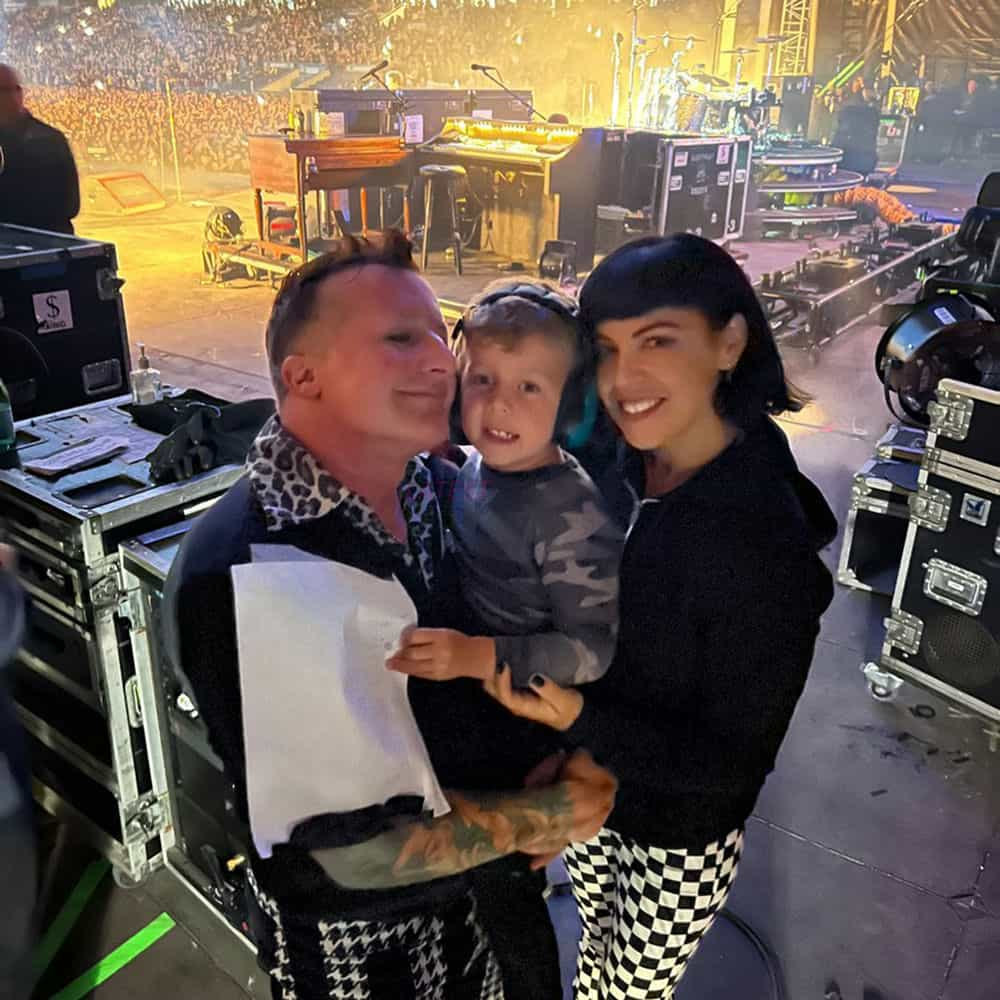 After his divorce from Claudia in 2003, Tre Cool married Sara Rose Lipert in 2014. Sara Rose Lipert is the mother of Tre Cool's son named Mickey Otis Wright. They welcomed Mickey on December 27, 2018. Sara often shares pictures of her adorable little boy on her Instagram.